Two lorry drivers injured in Nottinghamshire A1 crash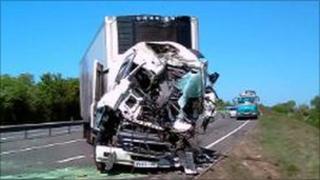 Two lorry drivers have been injured in an accident that closed a stretch of the A1 in Nottinghamshire.
Two lorries collided on the southbound carriageway of the A1 near North Muskham on Sunday morning, Nottinghamshire police said.
Both carriageways were closed for several hours and one driver was taken to Nottingham's Queen's Medical Centre with back injuries.
The other driver was taken to hospital in Lincolnshire with a broken leg.
A quantity of meat had to be removed from one of the lorries after the accident, police said.