Tony Egginton wins third term as Mansfield mayor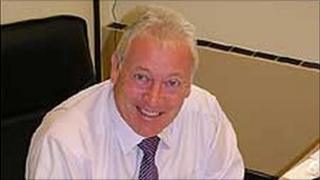 Tony Egginton has secured a third term as Mansfield's elected mayor.
The contest in the former mining town went to second round votes after no candidate polled more than 50%.
Standing as an Independent Forum candidate, Mr Egginton beat Labour party candidate Steve Yemm by just 67 votes.
But Labour won 10 seats in the district council election - contesting reorganised wards - which was enough to take control from independents.
Mr Egginton became the town's first elected mayor in 2002, ending nearly 30 years of Labour leadership in Mansfield.
Close campaign
Mr Yemm said: "I always thought it was going to be close.
"Labour has put an awful lot of effort into the campaign and run a good, fair campaign and I expected it to be close.
"But I thought if I was within 1500 votes, I'd get in."
After the first round Mr Yemm had 11,732 votes and Mr Egginton 10,901.
Figures show 30,377 people turned out to vote for the mayor and there were 1,349 rejected papers.