University student spending fears rejected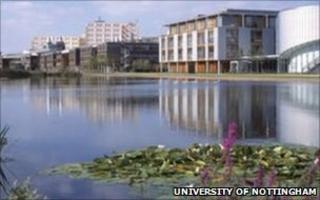 Fears university fees could damage the wider economy have been rejected by East Midlands business leaders.
A independent report said a fall in student numbers or spending due to higher fees could hit host cities with Nottingham among the most vulnerable.
It said 4.5% of the city's economic activity came from students, compared to 3.2% in Derby and 3.6% in Leicester.
But the Derbyshire and Nottinghamshire Chamber of Commerce said quality universities would still be attractive.
Centre for Cities, the think tank behind the report, has urged businesses and councils to plan ahead to deal with any slump.
But George Cowcher, from the Chamber of Commerce, described the conclusions as "speculative".
He added: "We are lucky in having quality institutions which show every sign of continuing to attract large student numbers.
"And as tuition fees are probably going to be financed with loans, day to day student spending may not be affected that much."
Both Nottingham and Leicester universities have said they intend to charge the maximum £9,000 a year fees, while Derby will charge fees between of £6,995 and £7,995.