Nottingham pond at former dump 'teeming with wildlife'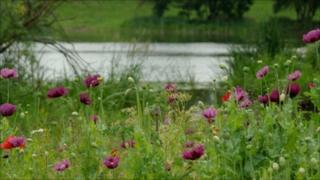 The latest stage of work to transform a rubbish dumping site into a nature reserve has been completed in Wilford Village, Nottingham.
The Iremongers Pond now has a circular path around the site and nine platforms for the public to enjoy the wildlife.
The Iremongers Pond Association obtained the lease for the area from Nottingham City Council in June 2008.
The pond was full of rubbish but is now teeming with wildlife, including a breeding pair of kingfishers.
"Hardly anybody knows it's here, because it's behind the [River Trent] flood embankment," said secretary Bill Roughton.
"It's one of Wilford's best kept secrets."
The £21,000 funding for the path and observation platforms came from the Big Lottery Fund in December 2010.