Beeston firm tops export sales growth list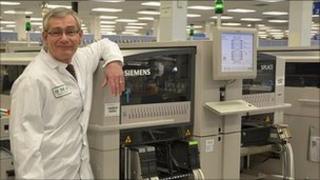 A Nottinghamshire company has topped a list of private companies in Britain with the fastest growing international sales, according to the Sunday Times.
Beeston-based SMS Electronics has seen exports grow by 418% a year over a two-year period, from £698,000 in 2008 to £18.7m in 2010.
Its managing director said the success was helped by spotting technology that would be in demand in the future early.
Mike Harby said the video conferencing market was huge for SMS.
"Video conferencing is one of our major product lines and that's really led to the growth in the exports that we've been doing over the last two years," said Mr Harby.
SMS identified the product as a recession buster, one that companies would turn to to save money in the economic downturn.
The company had to make 30 redundancies during the recession.
But six new apprentices have now been taken on, to add to the workforce of 130, to cope with demand.
Location, location
Mr Harby bought the business, along with four other employees, in 2002, when German engineering conglomerate Siemens Manufacturing Services decided to close the factory.
Mr Harby said the manufacturer decided not to move production to reduce labour costs.
Instead it aimed to focus on making highly reliable complex products to win contracts.
Mr Harby said he thought some British companies in his industry were not doing enough to sell themselves abroad.
"We have some of the best engineers and best product designers in the world, we're developing some of the best products in the world but we don't make them and we don't follow it through," he said.
"We've got to believe in ourselves and sing it from the rooftops - that the UK can be world class manufacturers."