Ancient bibles go on show at Southwell Minster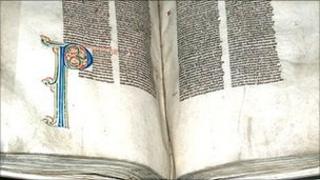 An exhibition of ancient bibles has opened in Nottinghamshire to mark the 400th anniversary of the King James Bible.
The collection, which features some of Southwell Minster's most treasured bibles, will be on show there until 17 June.
It includes a 13th Century vellum manuscript, several 16th Century bibles and two first editions.
Bibles with personal stories have also been loaned by local parishioners.
The Bishop of Southwell and Nottingham, the Right Reverend Paul Butler, has also contributed his first pocket bible.
One of the local contributors, Janet Cribb, 65, from Southwell, was given a bible by her great grandmother when she was baptised in 1945.
This bible had been given to her great grandmother by her aunt in 1866.
"It's very special to me. I used my bible for the reading at my wedding," Mrs Cribb said.
The exhibition is part of a month-long celebration of the King James Bible at the cathedral.
There will be a series of lectures, readings and children's activities.