Nottinghamshire Fire Service training with horses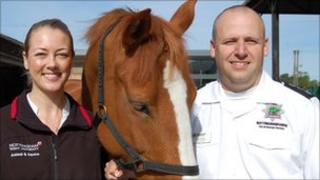 Nottinghamshire Fire Service has teamed up with Nottingham Trent University to practise for animal rescues.
Last year, crews were called to 70 animal-related incidents in the county.
The fire service is training mainly with horses at the university's Brackenhurst Campus to learn more about the animal.
Nottingham Trent University's animal and equine expert Cat Sanderson said fire crews had been learning how to read a horse's body language.
"They're learning how to approach a horse," said Ms Sanderson.
"If a horse has fallen into a ditch it will be kicking out, it will be frightened and the fire crews have to get very close in those circumstances."
Colin Poyzer from Nottinghamshire Fire and Rescue Service's Specialist Rescue Team said: "We used to improvise using equipment that wasn't designed for animal rescue, like hoses."
"The equipment we've got [now] enables us to secure the animal so we can get the vets in, sedate the animal and resolve the incident a lot more safely."
He added the training had involved practising on timid horses with harnesses, and leads, before taking on the more unpredictable animals.