Scholarship set up in memory of musician Roy De'Wired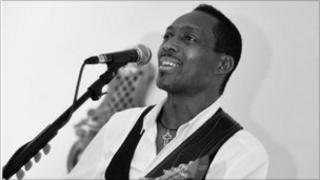 The family of a Nottingham musician who died in January has set up a charity in his honour.
Roy De'Wired, real name Roy Stewart, 52, performed at venues across Nottingham for 30 years.
The Roy De'Wired Scholarship Fund will aim to help young and talented musicians find their way in music and the industry.
His widow, Sarah, said the charity has been set up to create a legacy which reflected her husband's love of music.
"I feel that Roy was such a big name within Nottingham that it'd be a real shame not to keep his name going," said Mrs Stewart.
"[The scholarship fund] is to help with anything from someone who might want to do a university [music] degree to somebody who just wants to learn to play a musical instrument.
"I know Roy would have thought it was brilliant, without a doubt."
A memorial concert will also take place in Roy De'Wired's honour on 11 September.