First blind 999 call handler wins national award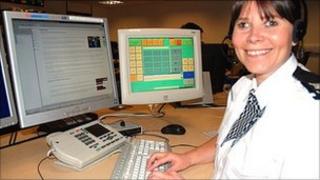 A Nottinghamshire woman believed to be the first blind person to take 999 calls in England has won a top award.
Carmen Glover, 39, won the outstanding achievement accolade at the Call Centre Management Association UK's awards.
The call operator, who works for Nottinghamshire Police, uses adapted speech software which enables her to navigate the Police National Computer.
Ms Glover, who took her first emergency call in April 2010, was nominated by the control room manager.
Manager Louise Ogden described her as "the top performer on our shift" and "proof of what you can achieve if you really want something".
'Important jobs'
Ms Glover applied to work in Nottinghamshire Police's control room in 2009.
After passing a skills test and getting through the interview, she took up her place on the training course but had to wait while the technology, enabling her to take calls, was developed.
"It is important to get across the message that just because you have a disability doesn't mean that you cannot get out there and do important jobs and be an important member of the community," said Ms Glover.
"I hope people get inspiration from what we have achieved at Nottinghamshire Police."
Ms Glover wants to become a dispatcher who controls the radio operations for police officers, but she needs someone to invent a way for blind people to read maps.
"I'm always looking for a new challenge," Ms Glover said.