Nottingham cancer care day centre to remain open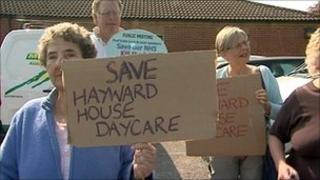 Services at a Nottingham cancer day care centre have been saved after a protest by patients and their families.
Nottingham City NHS Trust had earlier told patients day care counselling would move to other sites in the city.
Protesters had organised a 10,000-name petition against removal of the services at Hayward House at Nottingham City Hospital.
The campaigners said they will continue to lobby to ensure the services are kept at the centre.
Volunteer Chris Cann said the trust had apologised because some patients had been told the centre would close even though a final decision had not been made.
She said patients, who have cancer or motor neurone disease, had suffered a lot of stress for weeks because they did not know what would happen to the centre.
A joint statement from the trust and Nottingham City Hospitals Trust said they had "listened to the extensive feedback from patients and carers regarding the future arrangements for day care services at Hayward House".
It said face-to-face meetings will be held with patients and their carers to discuss the future of the centre.