Forgotten British naval hero gets bronze plaque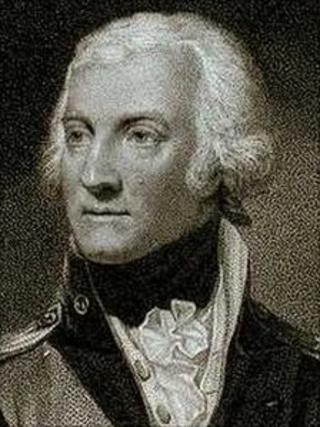 A bronze plaque may have been unveiled in his honour in Nottingham, but ask residents who Admiral Sir John Borlase Warren was and many only know the pub named after him.
However, Sir John served on the HMS Victory, in 1779, under the command of Admiral Sir Charles Hardy, and went on to become a politician and a diplomat.
The Stapleford and District Local History Society joined the campaign to get the plaque erected in Stapleford and get the recognition they believe Sir John deserves.
"[Sir John] lived a life of great renown," said Barbara Brooke. "He was a similar man to [Admiral Horatio] Nelson, he was very concerned about his men's well-being and he remembered things about their families...he was held in very high regard."
Admiral Nelson will always be remembered for winning, and dying, at Trafalgar in 1805, England's most celebrated naval battle.
However, Sir John, born in 1753, had won an equally-important battle against the French, seven years earlier in October, 1798.
A French fleet with 5,000 men sailed from Brest, in North-West France, with the intention of invading Ireland and arming Irish rebels.
The plan was thwarted thanks to a Royal Navy squadron under the command of Sir John.
St. Petersburg ambassador
It was known as the Battle of Tory Island and marked the last attempt by the French Navy to launch an invasion of any part of the British Isles.
Sir John went on to become an MP for Nottingham (1801-06) and an ambassador to St. Petersburg, the former Russian capital.
The campaign for the plaque is part of a wider scheme to recognise figures in the Broxtowe area of Nottingham, and was also led by the Beeston and District Local History Society and Beeston Civic Society.
They have already recognised Thomas Barton, the founder of Barton Buses, journalist Arthur Mee and writer Arthur Cossons.
The Sir John Borlase Warren plaque was unveiled on 18 May in the Walter Parker VC Memorial Square, Stapleford, by the Vice Lord Lieutenant of Nottinghamshire, Col Tim Richmond.