Nottingham scientists make 'key meningitis discovery'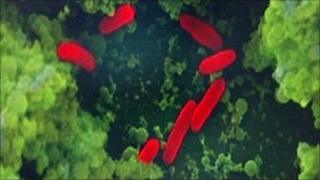 A "key discovery" by Nottingham scientists has shown the characteristics of a bacterium that can cause meningitis in babies.
As a result, the researchers are set to look at whether babies are being put at risk by the way they are fed.
It comes after the discovery the bacterium, Cronobacter, can be found in the environment, water and food.
The researchers said it can migrate from a baby's gut, through blood and brain barriers, to cause meningitis.
Professor Steve Forsythe, of Nottingham Trent University, said the discovery has got "international significance".
'Dangerous strain'
"What we'll be able to do is look at how these babies are fed," he said. "We'll be looking at whether the organism is on the carers or in the babies food and reduce that exposure."
His team has collected samples from six countries over 30 years, to be used in the study.
They used a DNA profiling method to understand the bacteria, where it comes from and its evolution.
"By identifying the particular genetic signature of the most dangerous strain of this bacteria, we will be able to trace it back to its source and hopefully reduce or eradicate it so that babies should be less likely to develop severe meningitis and suffer brain damage as a result," Professor Forsythe said.
He and colleague Susan Joseph are due to present the findings at the international American Society for Microbiology Conference.
It is hoped the discovery should pave the way for future work on the bacterium.