Police seek Grantham man's three attackers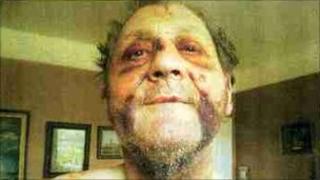 Police investigating an assault on a 67-year-old Lincolnshire man have released a picture of his injuries in a bid to catch his attackers.
Barry Williams was set upon by three men during an attempted robbery in the Morrisons car park in Grantham at about 0330 BST on 8 May.
The men demanded cash and when Mr Williams refused, he was punched and kicked, causing injuries to his face.
Lincolnshire Police have asked anyone with information to contact them.
Det Con Jim Stevenson said: "We now know from the victim that he carried an anti-crime spray called StoppaRed which was sprayed at one of the assailants.
"It is a non-toxic substance that leaves a red mark for a day or two before the substance can be washed off."
Det Con Stevenson asked anyone who had seen someone with any unusual red dye on their face or clothing that weekend, to contact police.
The men are described as white, in their early 20s and English.