Four arrested after Boxing Day shooting in St Ann's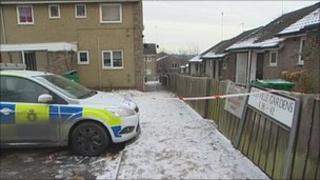 A man has been arrested on suspicion of attempted murder in connection with a Boxing Day shooting in Nottingham.
Damien Meredith, 24, was critically injured in Westville Gardens, St Ann's, after fleeing a party.
The suspect, also 24, was arrested in Nottingham, along with a 22-year-old man arrested on suspicion of assisting an offender.
Another man, 28, was arrested in Lincoln and a woman, 19, was arrested in Luton in connection with the case.
The 28-year-old was arrested on on suspicion of possessing a firearm while the woman was arrested on suspicion of assisting an offender.
£15,000 reward
A total of 14 people have now been arrested by officers investigating the shooting.
Seven people remain on police bail pending further inquiries.
A 27-year-old man and another 24-year-old man who had been on bail have this week been released without charge.
The shooting victim had to have a bullet removed from his brain.
A reward of up to £15,000 has been offered for information which leads to the conviction of those involved in the shooting.