Three Nottingham acts picked to play Glastonbury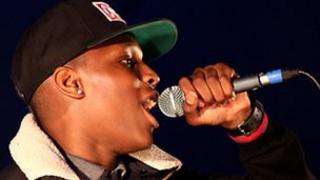 It has been announced that three acts from Nottingham will play the BBC Introducing stage at this year's Glastonbury Festival.
Jah Digga with DJ Vimto, Jake Bugg and rock band Spotlight Kid were suggested by The Beat - a BBC weekly music programme in the East Midlands.
Presenter Dean Jackson said having three Nottingham acts on the bill is an "unprecedented number from any city".
Glastonbury Festival takes place from 22 to 26 June.
Radio 1 gives up to 30 unsigned bands and artists the opportunity to perform at Glastonbury, each year, over the course of three days.
It is where Florence & the Machine started their career and Nottingham bands Fists and Dog is Dead, have also taken part.
Nottingham music
McCleary said it was important for Spotlight Kid to get the slot.
"I swore a few times and jumped around, then it sunk in. A moment like that will be with me until the day I die," said the vocalist.
"It's Glastonbury, the biggest festival in the world. We feel ready to make our mark."
The Beat's Dean Jackson said it was an exciting time for Nottingham's music scene.
"What these artists demonstrate brilliantly is the diversity of quality music to be had locally," said the presenter.
"From rock to acoustic to R&B. It's all happening."
Mr McCleary added how important BBC presenter Dean Jackson had been in championing Spotlight Kid.
"Without Dean it wouldn't have happened. The Beat have been supportive from day one and we owe Dean our gratitude for all he has done."
Nottingham-born singer Liam Bailey is also appearing at Glastonbury.