Dog survives being hit with wrench in Nottingham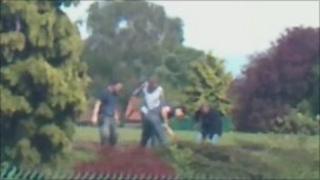 A pet that was beaten with a wrench by a man trying to break up a dogfight has survived the attack.
The RSPCA is investigating the fight in a Nottingham park but said both dogs had survived.
A group of men tried to separate the boxer cross and West Highland terrier but one of them resorted to using a wrench to save the smaller dog, an eyewitness said.
The Lenton Abbey Park attack was filmed on a phone and sent to the RSPCA.
'Last resort'
Eyewitnesses Christopher McGrath said: "The boxer snapped on to the Westie's neck. When a dog locks on, it is very hard to get them off.
"When we all rushed to save this little dog's life, the boxer wouldn't let go. We tried everything, pulling him away but he dragged the small dog with him.
"For four to five minutes we tried to get the dogs off, tried to prize the dog's mouth open, even put our hands where the dog's mouth was."
He said: "We did everything we could to get that dog off, it was a last resort."
An RSPCA spokesman said the smaller dog "would probably not have survived" if the man had not intervened.
The man who filmed the attack on his phone from a bus had originally believed the larger dog was fatally injured.
But both dogs had been treated by vets and were recovering, an RSPCA spokesman said.