Alcohol-related problems: Survey checks nurse training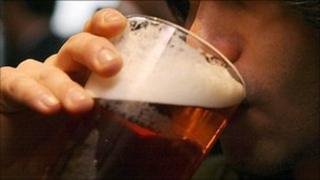 Nottingham researchers have launched a national survey to find out if nurses need extra training to deal with patients who have drink problems.
About 70 universities will provide information on the extent of alcohol-related education currently included on nursing courses.
Project leader Dr Aisha Holloway said some nurses felt they lacked the relevant skills and confidence.
The survey follows news that alcohol-related hospital admissions have risen.
The NHS Information Centre report, published in May, stated that admissions had increased by 12% between 2008-09 and 2009-10, to 1,057,000.
Earlier this year the charity Alcohol Concern estimated that admissions would cost the NHS £3.7bn a year.
Dr Holloway said nurses had a key role in helping patients.
"They are in the front line dealing with alcohol problems," she said.
"People aren't aware of units of alcohol, they're not sure exactly how much they're drinking and they're not aware of what the recommended limits are.
"There's a large body of evidence that suggests that identification and brief advice for patients that are consuming harmful levels is effective in reducing consumption.
"A lot of it is simply about raising awareness," she said.
The research team at the University of Nottingham's School of Nursing, Midwifery and Physiotherapy expects to have the survey results by the autumn.
"For the first time it will provide researchers with an idea of what actually is going on in nursing education within the UK," said Dr Holloway.
"From this data we hope to identify areas where knowledge and information is lacking and develop strategies and techniques.
"We're already doing that at the University of Nottingham where we're developing e-learning materials for nurses and student nurses so that we can educate and train them.
"In the small pilot work we've done that's shown to be highly effective."