Nottingham Trent University tops Green League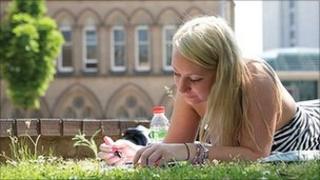 Nottingham Trent University has been named the most environmentally friendly and ethical in the UK.
The university topped the People & Planet's annual Green League published in the Guardian.
The university was praised for its commitment to becoming a low-carbon and low-energy institution.
Universities were ranked according to 13 criteria including environmental policy, ethical investment, energy sources and waste and recycling.
Wildlife haven
Nottingham Trent University says it recycles 78% of its waste and purchases 92% of its energy from renewable sources.
It aims to cut its carbon emissions by 48% by the year 2020-21.
Grant Anderson, environmental manager at Nottingham Trent University, said: "We've been working very hard to keep reducing the university's environmental impact."
The award-winning £90m Newton and Arkwright buildings use natural light and green technologies, with the Newton building having a "green" sedum roof to act as a natural insulator and provide a haven for wildlife.
Louise Hazan, from People and Planet, said: "Nottingham Trent University is clearly committed to making the low-carbon transition that's so essential for the sector."
It is the second time in three years that Nottingham Trent University has been ranked number one in the Green League.