Gedling school saved as academy plan is backed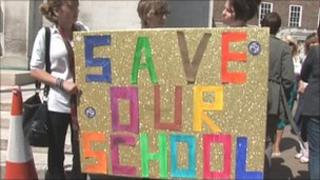 A Nottinghamshire school threatened with closure is now set to become an academy.
Last year the county council said it wanted to close The Gedling School from due to surplus pupil places in the area.
Parents and campaigners had staged a series of protests and a private sponsor came forward.
Now the council's cabinet has approved the change of status, saying it is the best way to take the school forward.
Following an Ofsted inspection in September 2010, the school was given a Notice to Improve because of the school's lack of progress over weaknesses highlighted in a previous report.
Inspectors scored the overall effectiveness of the school, which has more than 550 pupils, as "inadequate".
Future plans
The county council then said it wanted to reduce the number of schools in the area from the current seven.
During a consultation on the plans, Edutrust Academies Charitable Trust (E-ACT), which runs other academies nationwide, said it wanted to take the site over.
While welcoming the decision some parents, like Julie Fagahli, think it should have been made sooner.
"The children and the staff and the parents have been through such a lot of stress that wasn't necessary.
"The council could have sorted all of this out a long time ago and saved a lot of time, effort and money."
The cabinet member in charge of education, Philip Owen, said it was important for the process to be completed thoroughly, and added the decision would help to "meet the aspirations of the parents and governors".