Brendon Lawrence killer wins right to appeal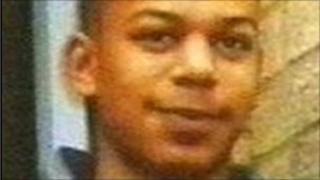 The man jailed for the murder of a 16-year-old shot in Nottingham has won the right to challenge his conviction.
Rene Sarpong, 31, was jailed for life at Nottingham Crown Court in March 2010 after he was convicted of gunning down Brendon Lawrence in February 2002.
The main prosecution witness said Sarpong, of Lamartine Street, St Anns, had hidden a gun under her bed.
London's Appeal Court heard his defence argue this was insufficient for a safe conviction and gave leave for appeal.
Sarpong was ordered to serve at least 22 years behind bars after prosecutors claimed he was linked to the murder by DNA evidence.
However, it was four years before the key witness - referred to in court by her nickname Bubbles - came forward.
She told the jury that Sarpong, of Lamartine Street, St Anns, had hidden the gun after the attack.
Lord Justice Hooper, sitting with Mr Justice Stadlen and Mr Justice Sweeney, said the defence's case was "persuasively argued".
No date was fixed for the full hearing of Sarpong's appeal.