Casey Brittle murderer has jail term increased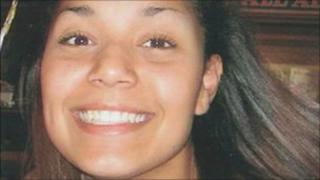 A man who admitted murdering his partner has had his jail term increased by Court of Appeal judges.
Mother-of-one Casey Brittle, 21, was found with fatal injuries at her house in Springfield Street, New Basford, Nottingham, on 3 October 2010.
Sanchez Williams, 27, admitted the attack on Ms Brittle.
In March, he was given a life sentence and told he must spend a minimum of 15 years in prison. Appeal judges said he must now serve at least 20 years.
The Lord Chief Justice, Lord Judge, sitting in London with two other judges, agreed with submissions made by Solicitor General Edward Garnier QC that the 15-year minimum term originally imposed at Nottingham Crown Court in March was "unduly lenient".
Lord Judge said Williams had inflicted "dreadful injuries" on his victim.
The attack on Ms Brittle was witnessed by the couple's two-year-old daughter.
"We simply cannot guess the long-term damage which will have been caused to that little girl and we can only hope that her future happiness is not irretrievably damaged", said Lord Judge.