Tutor devastated by Lance Corporal Gill's death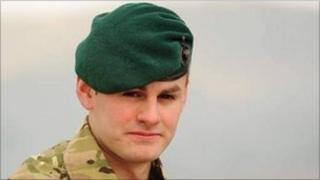 The former teacher of a Nottingham serviceman killed in Afghanistan on Sunday has spoken of her devastation at his death.
Marion Zarzycki was Lance Corporal Martin Gill's form tutor for five years at Christ the King School in Arnold, Nottingham.
She kept in touch with the soldier because his younger brother and sister also attended the school.
She said: "He's going to be missed by a lot of people."
L/Cpl Gill left the school in 2006. He had been a pupil there for seven years, including attending the sixth form.
Mrs Zarzycki said she remembered the day he attended his school induction.
"He was just so impressive - I noticed him straight away," she said.
"Martin was cheeky. He was there to help. He was a very determined character but he was lovely and so kind."
L/Cpl Gill's father died of cancer before he started secondary school.
Mrs Zarzycki said he became a bedrock for his mother and siblings and did a number of charity events to raise money for Cancer Research.
He later lost his mother, again to cancer, just weeks before he was deployed to Afghanistan.
"It must have been devastating for Martin - he wanted to be there for his brother [John] and sister [Rebecca]," added Mrs Zarzycki.
L/Cpl Gill was an hour into a patrol when it was fired upon from a nearby compound. He was hit and fatally wounded.
Mrs Zarzycki revealed that the school will plant a tree and lay a plaque in honour of the soldier.
"Everyone needs to know what sort of person he was and honour his memory," she said.