Victor Massey widow tells of shock at treatment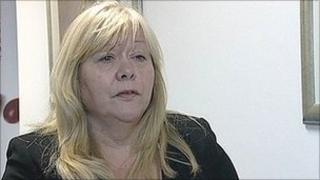 The widow of a patient who died while restrained in a Nottinghamshire hospital has said she holds both police and medical staff responsible.
Jane Massey's husband Victor, 54, died at King's Mill Hospital in August 2006.
An inquest jury decided police were wrong to use CS gas spray on Mr Massey, and should have consulted with staff.
Sherwood Forest NHS Trust said it had worked with Nottinghamshire Police to ensure guidelines were now in place to deal with incidents in hospitals.
The family has also confirmed its intention to seek compensation.
Police officers responded to staff calls when Mr Massey began to smash up a shower room.
Leg restraints
After threatening them with a piece of glass, he was sprayed with CS gas, handcuffed and pinned down.
Mrs Massey said: "The one thing I could never understand was how could you CS gas a man who had been on oxygen for six days and had breathing difficulties.
"When we went to the corridor, I followed the nurse's eyes to the door and I could see Vic lying there. [There were] leg restraints, handcuffs and [police officers] kneeling all over him."
She added: "I told them at the time - if I knew he couldn't take it, why didn't they? They were the nursing profession. I hold King's Mill equally responsible, just as I hold the police responsible."
'Conflict resolution'
Nottinghamshire Police said the rationale for the officers' actions was explored during the course of the inquest.
In a statement, the force added: "As is often the case when police are faced with volatile and dynamic circumstances, split-second decisions need to be made, and the tactics deemed most suitable applied. In this case an officer chose to use CS spray."
The inquest jury highlighted a lack of communication between hospital staff and the police during the incident, saying that there was no training for police and clinical staff to deal with such events in a hospital.
Sherwood Forest Hospitals NHS Trust told the BBC: "We have trained over 2,000 members of front line staff in conflict resolution since 2006 and continue to provide refresher training on a regular basis.
"We have also worked closely with Nottinghamshire Police to ensure that guidelines are in place to help clinical staff and police officers when dealing with incidents at our hospitals, to ensure that the police and our clinical staff have all the information they need."
Both the NHS and police said they were aware of the compensation proceedings and would deal directly with the family's legal team.