Nottinghamshire food Colwick cheese revived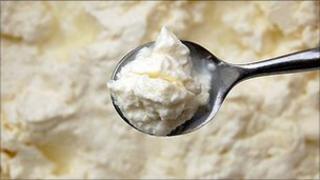 "It's a piece of our heritage and I want to bring it back," said Matthew O'Callaghan, a food historian attempting to revive an ancient Nottinghamshire food.
Colwick cheese originates from the village of the same name and was invented by John Clarkson in the early 1600s.
Mr O'Callaghan said he hoped to encourage a local dairy to start producing the cheese again by showcasing it at the Artisan Cheese Fair in Melton Mowbray on 11 and 12 June.
"There is no British cheese that is equivalent," he said.
"It is a distinctive, very fresh-tasting cheese, probably the best of its type."
'Great future'
Mr O'Callaghan, 58, discovered the cheese whilst reading a book of old recipes.
At the time he was living in a farmhouse in Brazil.
With an unlimited supply of milk at hand he was able to experiment making the cheese and said it "went down a storm" with friends and family.
The fresh cream cheese had a bowl-like shape into which fruit, cream or jam was placed and eaten for afternoon tea.
It is easy to make, requires no fancy equipment and can be produced in a family kitchen, said Mr O'Callaghan.
"Unfortunately, it doesn't travel well. To that extent it will always be a regional delicacy.
"But within the region there's no reason why it shouldn't be as successful as Stilton," he said.
The food historian and chair of the UK Protected Food Names Association said he would eventually like to get to get the cheese protected under European law, like Stilton and Melton Mowbray pork pies.
"This cheese was one of the most famous cheeses of its time," said Mr O'Callaghan.
"Rather like we list our buildings to show architectural heritage we should list our important foods.
"I hope that we'll eventually get it protected to the south Nottinghamshire, north Leicestershire area where it was made on a historic basis."
Commercial production of Colwick cheese ended in 1993 when the Richmond Dairy in Mapperley decided that it would cost too much to comply with new European legislation, said Mr O'Callaghan.
At its peak the dairy was making over eight tonnes of the soft, curdy cheese a day.
"Everybody I have talked to used to love it. It's got a great past and I think it's got a great future," said Mr O'Callaghan.