Back to work for fire-hit Crazy Coffins in Nottingham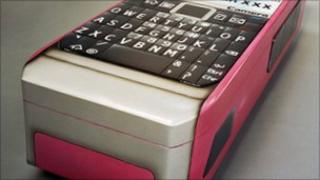 A coffin maker has said it will not let any of its clients down after a fire destroyed some of its factory and bespoke coffins.
Coffins lost in the blaze at Crazy Coffins in Bulwell, Nottingham, included ones in the shape of a mobile phone, a football boot and a narrowboat.
The firm also lost 25 to 30 standard coffins in the fire on Tuesday.
"It was soul destroying, a very sad day," said the company's director, David Crampton.
"But we were back in the next day, have started the clean up and partially started the production line."
The factory lost 7,000 sq ft (650 sq m) of workspace, including its fitting-up area, store room and a third of the coffin shop in the fire.
Plane coffin
The bespoke coffins cost between £1,500 and £6,000 and take up to 10 working days to finish.
"We've lost a Viking boat that just needed its shields fitted to its sides, there was a yacht we were painting and a bottle car half built for a man who runs a brewery," said Mr Crampton.
The director said he expected the factory, which employs 18 people, to be back to full production in a couple of weeks.
"The men here will turn things around pretty quickly. They are all joiners so doing the woodwork here will be no problem," he said.
The idea for Crazy Coffins came from a member of the public 15 years ago.
She telephoned coffin makers Vic Fearn & Company Ltd, which owns Crazy Coffins, and asked if they could make her a casket in the shape of a plane.
"I thought at first she was very silly," said Mr Crampton, who has worked for the firm for 30 years.
"But within five or 10 minutes of putting the phone down I realised it was not such a stupid idea."
The coffin was built and sent to the client and the joiners thought nothing more of it until they started to get more orders for unusual coffins.
Star Trek
"It got into a newspaper and we were mentioned," said Mr Crampton.
"We now get about 20 requests a month, from which two might come to fruition."
Despite tough economic times, Mr Crampton said the orders had continued to come in.
"If someone wants something very special that says something about their life, cost doesn't come into it," he said.
Commissions have included a torpedo for a Star Trek fan, a giant hotdog and a skip for a building contractor who "wanted to go out with the rubbish".
Mr Crampton said custom-built models tended to be ordered by people before they died, to be made and kept in storage.
"They store them at their house, or we can store them, and sometimes, with permission, exhibit them," he said.
Crazy Coffins' last exhibition, in France last year, attracted more than 250,000 visitors over 16 weeks, said Mr Crampton.