Robin Hood Marathon 'not affected by flood scheme'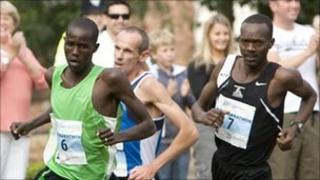 Organisers of Nottingham's Robin Hood Marathon say the race will go ahead despite flood work near the route.
There were fears the race would be delayed due to uncertainty over completion dates for flood defence work along the River Trent.
The work will take place at Victoria Embankment, the start and finish point of the marathon on 11 September.
The Environment Agency said work will continue until November but there would be no impact on the event.
Spokesman Chris Sumner from race organiser Sweatshop said: "We can confirm that the races are on and can now happily unveil the route and further race details."
Organisers have announced there will be a change to the full marathon route.
Competitors will not have to run around the Holme Pierrepont section as much as they have in previous years, and instead will run a longer stretch on Holme Lane.
The £51m Victoria Embankment Flood Alleviation Scheme aims to protect 16,000 homes and businesses along a 16.7 mile (27km) stretch of the River Trent.