Nottingham hunt for pair who crossed train's path with pram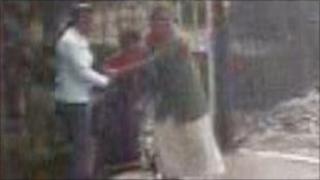 Police are appealing for information about two women with a pram who crossed a rail line in front of a train.
British Transport Police said CCTV images show the two women with a child in a pushchair at the level crossing in the Sneinton area of Nottingham.
A spokesman said the dangerous action at Trent Lane on 14 May "could have been fatal".
The police appealed to anyone who recognised the women in the CCTV images to contact them.
Insp Mark Clements said: "The women dodged under the barriers to nip across the track in front of the on-coming train.
"It's quite unbelievable that one of them was pushing a pram with a small child in it. This is not only irresponsible, but could have had fatal consequences.
"Incredibly some people are still putting their lives on the line by ignoring warning sirens and trying to dash through the crossing which, last year, resulted in 13 people losing their lives in the UK."