Nottinghamshire schools in pension strike disruption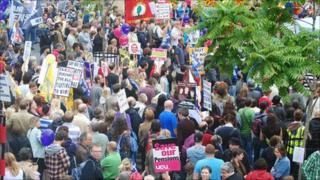 About 250 of Nottinghamshire's schools have fully or partly shut due to the national public sector strike.
The county has 341 schools, more than half of which informed the authority they would be affected in some way by the action.
About 70 of the city council's 101 schools have said they were fully or partially closed.
Teachers and civil servants across England and Wales are striking over proposed changes to pensions.
Among those taking part in the 24-hour action were members of the National Union of Teachers (NUT) and the Association of Teachers and Lecturers (ATL), who say the proposals will mean them working longer and paying more.
The NUT had said it expected 85% of schools in England and Wales to be affected but Department for Education data suggested 11,114 of the 21,500 state schools in England were hit by the walkouts.
'Last resort'
Liam Conway, from the union in Nottinghamshire, said their pensions were being attacked "in a way that's never been seen before".
"We've got to do something about that. We've been talking to the government for five months. They haven't moved a single centimetre so this is a last resort.
"The government are planning to make us pay about a hundred pounds a month more into our pension pot at a time of a pay freeze.
"They are planning to reduce the value of our pension when people retire by about half, and they are going to make us work until we are 68.
"I'm all for keeping schools going but I don't think it is a very good idea to make teachers work in front of children until they are 68 years old.
"Teaching is a stressful job. I don't want to be working until I am 68 just in order to secure a reasonable pension."
But mother-of-two Bev Stokes, from West Bridgford, questioned the value of striking.
She said: "I'm just really confused. The man in the street who works for one of the big blue chip companies is going through exactly the same as you (the teachers) but he can't strike because he will lose his job.
"How do you think striking gets the public support behind you?"
'Balancing needs'
Nottingham County Council said it was up to individual head teachers to decide whether schools could remain open.
John Slater, service director for education standards and inclusion, said: "It's about balancing needs of the children and young people in terms of their continuity of education with health and safety factors.
"Depending on the level of participation from teaching staff, head teachers may, for example, consider combining certain classes in the hall or asking a teaching assistant to sit with a class."
Nottingham City Council said it expected schools to remain open "where possible".
Other public sector workers striking include UK Border Agency staff at East Midlands Airport.
Agency spokesman Marc Owen said: "We had robust contingency plans in place and while a number of officers have gone strike, it's pretty much business as usual at East Midlands."
Union leaders have said there are still major divisions between unions and the government over three key proposals - to raise the pension age, to increase workers' contributions and to link pension values to the generally lower consumer prices index (CPI) rather than the retail prices index (RPI).
The prime minister has insisted the pension changes would secure affordable pensions for decades to come.
The government said reforms were necessary because as people live longer the cost of funding public sector pensions was "unsustainable".