Southwell 20mph speed limit enforcement calls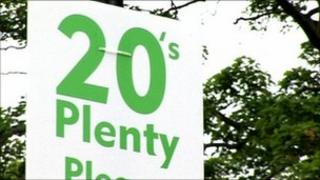 Residents have called for a Nottinghamshire town's voluntary 20mph speed limit to be enforced.
Advisory signs were installed on lampposts on the A612 at Easthorpe, one of the busiest roads in Southwell, in May.
But local campaigners have said the signs do very little and said Nottinghamshire County Council should make the speed limit mandatory.
The council said it would monitor the scheme before making a decision.
Barbara Cray from the Southwell 20's Plenty For Us campaign said she wanted the council to take the speed limit seriously.
"Little bits of cardboard stuck up here or there. It just seems a little pathetic," she said.
The voluntary speed limit came about after a four-year campaign by residents.
"All right, at last they are listening to the fact that we need 20mph," said Ms Cray.
"But we want them to make it mandatory. There's no reason why not. If other councils up and down the country can do it they can."
'Rely on motorists'
Nottinghamshire County Councillor Richard Jackson, cabinet member for transport and highways, said: "Although the signs are only advisory, we hope drivers will abide by them."
Mr Jackson said one of the problems the council had with implementing a mandatory speed limit was enforcement.
"Police have other priorities and won't always agree to police mandatory speed limits.
"If that's going to be the case we might as well have an advisory speed limit and rely on motorists to slow down.
"By and large, experience so far here is that people are doing that."
He added that with the £10,000 it would cost for one mandatory zone Nottinghamshire County Council could put in place 10 advisory schemes.
The speed limit on the A612 at Easthorpe, which brings through-traffic from Newark, is the first of its kind to be introduced in Nottinghamshire that is not outside a school.