Mansfield war memorial targeted by vandals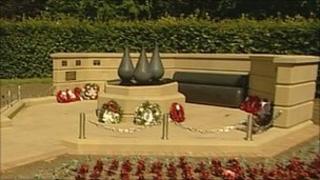 A 13-year-old girl is being questioned by police after a new Nottinghamshire war memorial was vandalised.
Graffiti was sprayed onto the stone and granite memorial in Mansfield's Carr Bank Park.
The tribute was unveiled earlier this month and bears the name of seven local soldiers, three of whom died in the past five years.
Volunteers who raised more than £70,000 to build the memorial said the attack had shocked the soldiers' families.
The graffiti, which consisted of a series of names, a cross and the letters RIP, has been cleaned off.
Graham Parker, a trustee of the Mansfield Heroes Memorial Fund, said: "This is not paying respect to people who died three or four generations ago, this is paying respect to people connected to living people in our community.
"To then go and desecrate it in the way it was done, so quickly, is absolutely galling, I just can't comprehend it but also the families can't comprehend it.
"Some of them are struggling to come to terms with it."
The Mansfield Heroes Memorial bears the names of soldiers killed in Northern Ireland, Korea, Iraq, Afghanistan and The Falklands.