Man arrested in Nottinghamshire over JCB wrecking spree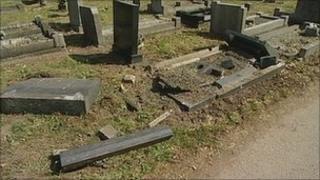 A 34-year-old man has been arrested after a JCB was driven through a Nottinghamshire village, causing damage to other vehicles and a cemetery.
An officer tried to pull over the JCB - which is believed to have been stolen - in Church Warsop, near Mansfield, on Saturday evening.
But police said the driver had made his way into some fields, before smashing through a wall and into a cemetery.
The driver finally stopped after puncturing a tyre.
During the pursuit, which involved the police helicopter, the JCB was driven into a car with a person inside it and also damaged several headstones in the cemetery.
A police spokeswoman said just before 1800 BST the JCB had been seen by a dog section officer who tried to pull the vehicle over because of the way it was being driven.
"The vehicle was travelling at around 15mph and so the officer got out of his vehicle and made further attempts to signal to the driver to stop," she said.
"The JCB continued on to a nearby lane where it hit a vehicle.
"The member of the public in the vehicle is not believed to have sustained serious injuries."
Insp Alan Hamilton said: "The incident lasted for less than 10 minutes but in which time the JCB caused damage to fields, hedges, vehicles and within the cemetery.
"Members of the local community are clearly upset by the damage and local officers are at the cemetery reassuring the public.
"The local councillor will be contacted and we will work with the community to ascertain the full extent of the damage and to provide whatever assistance we can to them."