The Meadows eco-taxi service plans announced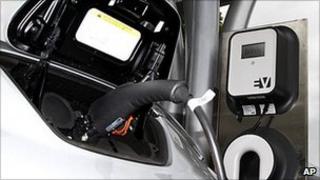 A Nottingham community group has revealed plans to launch an electric taxi service after winning £35,000 in a national environmental competition.
The Meadows Partnership Trust received the money as runner-up in the British Gas challenge to improve energy efficiency on the estate.
The taxi service is to be powered by "totally green energy" from solar panels in The Meadows.
Project leaders want to launch it within three months.
Two-year plan
The Meadows Partnership Trust said it expected the green taxi service to start with two electric cars, serving city residents.
Manager Jacky Dobson said fares would be similar to a traditional cab service and operate in the same fashion, except the cars would have to recharge every 100 miles rather than refuel.
"Most journeys in the city are three, four, five or 10 miles maximum.
"We don't envisage having any problems," she said.
It is hoped a charge point for the taxis will be next to The Embankment, a community building on Trent Bridge.
"The electricity will come from the solar panels we're having put on the roof so it will be totally green energy," said Ms Dobson.
The Meadows Partnership Trust plan for the social enterprise to become a viable business within two years.
"We've wanted to start up this green taxi company for a while but the start-up costs of it are quite high.
"This money will enable us to get the social enterprise up and running a lot sooner than we would have been able to."