Cobra bite victim's partner tried to resuscitate him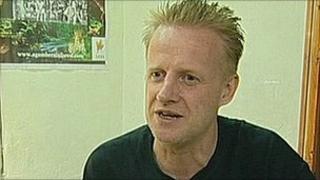 The partner of a Nottinghamshire reptile enthusiast tried to resuscitate him after he was bitten by one of his cobras, an inquest has heard.
Luke Yeomans suffered a fatal heart attack caused by king cobra venom at the snake sanctuary in Eastwood, which he had planned to open to the public.
The 47-year-old's partner Sue Turnbull said she injected him with adrenaline but could see he was already dead.
Coroner Maureen Casey recorded a verdict of accidental death.
Ms Turnbull said she was alerted by one of Mr Yeomans' co-workers, who found him injured at the compound behind his home at Brookhill Leys Road on 29 June.
She told the hearing at Nottingham Coroner's Court: "I knew immediately he'd been bitten. He was staggering around like he had been drinking.
"He fell forward head first. I shouted for someone to get an ambulance."
Ms Turnbull administered the adrenaline and performed CPR until paramedics arrived, but Mr Yeomans was pronounced dead soon afterwards.
In an interview with the BBC earlier this year, Mr Yeomans said he started the breeding colony in 2008 in reaction to the depletion of the snake's natural habitat in the forests of south-east Asia and India.
He had planned to open it to the public on 2 July.
The coroner said it was "a tragic case where a man passionate about snakes and king cobras had devoted his life to them".
She read a statement from Mr Yeomans' daughter Nicole, who said: "Dad lived for his snakes and was particularly passionate about king cobras.
"He was fully aware of the possibility he could be bitten. I took comfort that he died doing something he loved so much."
King cobras are the longest of all venomous snakes and can deliver enough toxin in a single bite to kill an elephant.