Nottingham tram delays in taxi fine dispute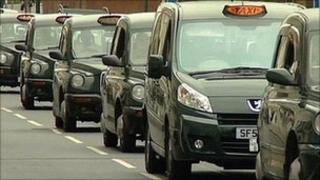 Trams in part of Nottingham were suspended amid a dispute between the city council and hackney cab drivers.
On Monday, the authority introduced on-the-spot fines for drivers who block bus stops and park on double yellow lines at four "hot spots".
Since then, queues of slow-moving taxis formed, including at Fletcher Gate, stopping trams for at least an hour.
The drivers deny they are protesting and claim they are simply driving to the next available rank.
The council said it brought in the fines because hackney drivers were causing congestion and other problems by blocking bus stops and spilling over from ranks into pay and display bays.
In other parts of the city they have a five-minute "grace period" to move their vehicles before facing action.
Buses disrupted
The drivers say the new measures are unfair as there are 411 cabs and only 201 taxi rank bays.
Since Monday, convoys of taxis have caused congestion in the city, mainly at rush-hour times.
Wednesday evening's disruption affected trams between the railway station and Old Market Square, as well as some bus services.
Dave Astill from Nottingham City Transport said: "We're disappointed. Bus, taxi, tram - it's part of Nottingham's public transport offer and it's disappointing that the action the taxi drivers are taking is impacting on public transport in the city. That's not what we want.
"We're doing our best. We've got the technology in the control room and we're doing our best to keep buses moving."
The four areas where cab drivers face fines are Mansfield Road at the entrance to Victoria Centre, Milton Street opposite Burger King, Beastmarket Hill near Lloyds TSB and Station Street opposite Loxley House.