Cathedral opposes Nottingham Sunday parking charges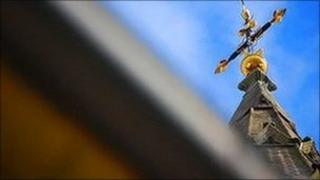 Nottingham's cathedral has said if city centre Sunday parking charges are introduced it would force some of its congregation to worship elsewhere.
The Dean of St Barnabas, Father Michael Brown described possible charges as "an unfair tax on churchgoers".
Nottingham City Council has said it is looking to make changes to Sunday parking in the autumn.
It said it was still working on the proposals and will consult on them, taking all views into consideration.
Councillor and Portfolio Holder for Planning and Transportation Jane Urquhart said: "We are having a look at Sundays because retailers tell us they are just as busy as the other days.
"One of the things they like is for the spaces to have a turnover of people parking for short periods of time."
Sunday parking was on Nottingham City Council's agenda in 2010, when it was included in the draft budget for 2011.
At the time it was estimated it could generate £140,000 over three years.
The Dean of the Catholic cathedral on Derby Road said: "We don't disagree with charging for shoppers but this is, we feel, an unfair tax on churchgoers.
"We would prefer if the city council consider exemptions or permits for people who use the city centre churches for worship," he said.
"Public transport on Sundays is very bad. Some people can't come any other way but the car. Charges would penalise them.
"The churches have been here a lot longer than the shops."