Two hurt as lightning strikes house in Newark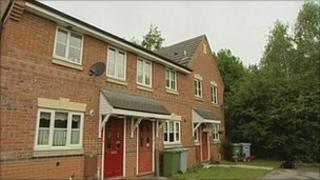 Two women have been taken to hospital after a house was struck by lightning in Nottinghamshire.
A bedroom collapsed at the property in Robert Dukeson Avenue in Newark during a storm on Friday night.
The lightning strike also caused a small fire after it spread through electrical fittings.
A spokeswoman for Nottinghamshire Fire and Rescue said the two fire engines were sent to the scene but the fire was out by the time crews arrived.
Neighbour Alan Clayton said: "There was a tremendous bang, a flash from the fuse box in the house and all the electrical items went off.
"Next thing I heard was women screaming next door.
"I went to look outside to see what was happening and there were two ladies who ran outside the house obviously very distressed who said 'call the fire brigade the house is on fire."