End of an era for model makers after loss of Myford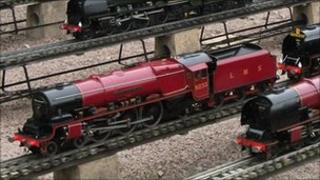 "I'd always wanted to be an engine driver," says 72-year-old Bill Hall.
"And the only way I could do that was to build my own model engine."
Forty years ago he bought a lathe, a machine for shaping metal, from Myford - a family business that has manufactured machine tools in Nottingham since 1934.
Over the years Myford's small lathes - especially the Super 7 model - have been used loyally by enthusiasts to make models such as miniature boats and locomotives.
But last weekend, the company announced it was in liquidation. They said due to the recession and cheaper foreign imports the business was being wound up.
Mr Hall, secretary of the Nottingham Society of Model and Experimental Engineers (NSMEE), said it was a "terrible shame".
He paid £106 for his lathe - an equivalent machine would now cost between £7,000 and £8,000 - and had to wait six months before it was delivered.
"I didn't have a lot of money and I really pushed the boat out," said Mr Hall. "It was a significant expense and not really justifiable in the context of my family finances.
"But there was always a perception that a Myford machine was the Rolls Royce of small lathes."
'Terrible shame'
However, news of the liquidation was not the end of the world for model engineers said Mr Hall.
"A foreign import is probably rather less money than the cost of a reconditioned Myford," he said. "So it's sad rather than bad, as alternatives are available."
Mr Hall's "expensive hobby" has continued and he still builds small locomotives at his workshop near the Nottingham Transport Heritage Centre in Ruddington.
Liquidation sale
Customers took the opportunity to buy lathes, equipment and spare parts at the Myford liquidation sale last weekend.
"Myford is synonymous with quality. I'm afraid it's the end of an era," said one man.
Another added: "People aspire to own a Myford and they have a very loyal fanbase, as well."
Chris Musson, a Myford machinist, said: "At the height of it there were 350 people who worked here. Now there's just 17 of us. It's part of my life."
Mark Goggin, from Myford, said: "It's a very sad for the model engineering enthusiast and unfortunately with the far east manufacturing lathes and parts [at a] far cheaper price, it's had a major impact on the business as well."