Security guard shot in attempted robbery at Tesco store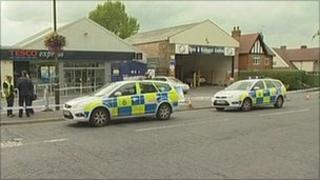 A security guard has been shot in the leg during an attempted robbery at a Tesco Express store in Nottinghamshire.
Police were called to the store in Nottingham Road in Eastwood at about 13:30 BST after reports of an attempted robbery of cash from a security van.
The injured man was taken to hospital for treatment but his injuries are not thought to be life-threatening.
Police found a black Audi Quatro S3, in which the three suspects fled empty-handed, abandoned in Hucknall.
The car, registration KU09 ZDM and which had an L plate on the back, was found on Kingsway Gardens, Watnall Road, an hour after the attempted robbery.
Police believe the three suspects had the car for a number of days and that the car and those using it may have been seen by other people.
G4S van
A spokeswoman for G4 Security, which owns the van, confirmed one of its employees had been shot.
The company has a contract to handle cash for ATM machines at Tesco stores and staff were filling up the machine at the Eastwood store when the raid took place.
In a statement, the spokeswoman said: "We understand our employee was attacked by two assailants. At least one was armed with a firearm.
"He was shot in the leg just above the kneecap. He is receiving hospital treatment for his injuries which are serious but not life-threatening."
Nottinghamshire Police have asked anyone with information about the raid to contact them.