Nottingham alleyway death woman suffered head injuries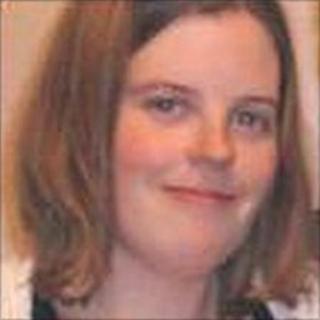 A woman whose body was found in a Nottingham alleyway died of head injuries, police have confirmed.
Caroline Jane Coyne was discovered between two houses in Thorneywood Mount, in the St Ann's area, on Saturday morning.
Ms Coyne, a 28-year-old mother of two young sons, was from Top Valley.
Officers said she left a family party in the Arnold area on Friday evening and it was currently a mystery why she was found some miles away.
Supt Adrian Pearson said: "We have got scientific evidence from the scene we are working on now and obviously [also from] the post-mortem.
"But the real mystery is why is she here, so we are particularly appealing for anyone who who may have seen her walking or gave her a lift and we are getting information from bus and taxi drivers that may help tell us why she ended up in this location."
Ms Coyne, a care worker, had shoulder-length auburn hair, and was wearing blue jeans with a brown belt, a pink T-shirt with FCUK printed in black on the front, and pink and white trainers.
House-to-house inquiries are continuing and officers have reassured local residents Ms Coyne's death is not being linked to any other cases.