Kingston Upon Soar truck firm's natural gas fuel system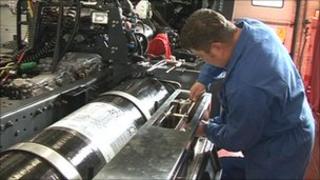 A lorry firm from Nottinghamshire has created a way to make truck engines run on natural gas, as well as diesel.
The Hardstaff Group has been supported from European vehicle manufacturers Mercedes-Benz and Volvo.
The firm said its patented system could save hauliers, who cover an average of 70,000 miles (112,630 km) a year, about £12,000 per truck, as gas is cheaper than diesel.
The firm spent 12 years developing the technology, which costs £25,000 per truck.
The Hardstaff Group, which is based in Kingston Upon Soar, has established a production plant in Sweden to install the technology on to new Volvo lorries.
Hardstaff's managing director Trevor Fletcher said the the duel fuel technology had been embraced by the European companies which was "beyond his wildest dreams".
The Hardstaff Oil-Ignition Gas-Injection (OIGI) system reduces the amount of diesel injected into a cylinder of an engine, replacing the fuel with natural gas.
The 150-year-old firm said by using natural gas it will cut CO2 engine emissions by approximately 16% to 18%, per vehicle.
'Small contribution'
Methane gas is a fossil fuel but considered to be a less of a pollutant because it burns cleaner than other fossil fuels.
The company said it was driven to create a cleaner fuel because of increased diesel prices and the implementation of policies to reduce global warming.
The methane gas used in the system can be the same as what people use in homes and factories but brought to the delivery point as a liquid.
It can also use bio-methane from composted domestic waste.
Nigel Lee, from Friends of the Earth Nottingham, said the group welcomed the reduction of carbon emissions.
However, Mr Lee said the problem lies with the limitations of using natural gas, as it was not a renewable energy source.
He hoped Hardstaff could make "productive use" of food waste to make bio-methane and reduce the amount of fossil fuels being used.
"It's a small contribution overall but it is good that they are doing it," said Mr Lee.
Hardstaff has worked on the technology with experts at Loughborough University, in Leicestershire.
Dr Kathryn Walsh, from the university, said: "We've got technology that's really going to change the fuel consumption of heavy duty trucks across the world."
Hardstaff, which currently employs 250 people, said more jobs would be created locally and globally as trucks were converted to the new system.