A453 widening group meets Transport Secretary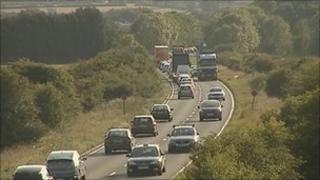 Business leaders and politicians from Nottinghamshire have met the Transport Secretary to push for the widening of the A453.
The 11mile (17.7km) section, of mostly single track carriageway between the M1 in Leicestershire and the outskirts of Nottingham, suffers from congestion.
The group says the widening project will help boost the economy and has wide support.
Government officials will now travel to the area for further investigations.
The £164m project was one of several delayed until at least 2015 as part of the comprehensive spending review.
But pressure to have the scheme brought forward has continued, with the county council offering £20m towards its costs.
Number crunching
The delegation included the leader of the County Council, councillor Kay Cutts, its chief executive Mick Burrows and representatives of Nottingham-based Boots and nearby East Midlands Airport.
Ms Cutts said the meeting with Transport Secretary Philip Hammond was constructive.
"I know it would be a huge benefit to the area, the chamber of commerce know it would be - the minister now needs to be convinced it would be as well," she said.
"It really is down to hard nosed figures."
She added: "If the figures stack up I think we have a very good chance to get to the next hurdle, which is trying to find the money to bring this forward from 2015 to perhaps a year or two's time."
Improvements to the route, which carries about 32,000 vehicles a day, have been under discussion since the early 1980s.
A government decision on which UK schemes will be up for early construction is expected soon.