Parking bays to be removed in Nottingham's Broad Street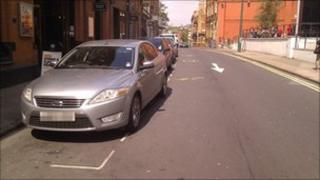 Parking bays in a Nottingham street will be removed to give restaurants extra seating space for customers.
Nottingham City Council said it hoped the measures in Broad Street, in the Hockley area, would increase trade and create a European outdoor cafe culture.
The measures will be in place from August until the end of October, during which time the road will be narrowed to three metres (9ft 10ins).
The council said the parking bays would be reinstated for Christmas shoppers.
"We've had to think hard about whether it's worth giving up those parking bays for the summer period," said Councillor Jane Urquhart.
"We decided that we'd give it a go because there are other on-street parking bays near to this area."
She said the complete pedestrianisation of the street was something the city council was willing to think about but did not currently have a view on.