No bail for Nottinghamshire police officer on child sex charges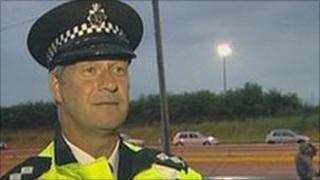 A Nottinghamshire police officer has been remanded in custody after appearing in court charged with sexual offences against a child.
Insp Russell Dew, 44, based at Mansfield police station, is accused of two counts of sexual activity with a child in Newark over the past year.
His solicitor made an application for bail but it was refused by the judge at Sheffield Magistrates' Court.
Mr Dew is due to appear at Sheffield Crown Court on 8 August.
The alleged victim was a 13-year-old schoolgirl.
Mr Dew, who has been suspended, has worked as a local inspector in charge of policing in the Ashfield South district.