Notts Fire service start public consultation process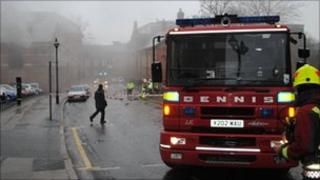 People in Nottinghamshire are being asked about possible changes to the way the fire service is run.
About £6.5m has to be cut from the fire authority's budget in the next four years, meaning 80 part-time firefighters could go.
Some traditional fire engines could also be replaced with smaller Targeted Response Vehicles (TRV).
The Fire Brigade Union (FBU) opposes the proposals saying frontline services should be protected.
Managers have said it is all about providing a service that is fit for purpose.
Frontline services
Darrell Pulk, chairman of Nottinghamshire Fire Authority, said: "We've had 10,000 fewer calls over the last 10 years which means we can use resources in a different place."
Using more TRVs is one of the fire authority's proposals.
TRVs deal with smaller incidents like grass, car and rubbish fires, and require less water.
Phil Coates, chairman of the FBU, said: "The money has to be spent on the frontline services.
"Fire engines have to be available for the people of Nottinghamshire to save lives, without them we're worthless."
Members of the public have been asked to read a 20-page document and and fill out a questionnaire on the Notts Fire and Rescue website.
The consultation process take places until 23 October and a report will be presented to the Fire Authority in December.