Nottingham's Pagan Pride 'UK's biggest free pagan event'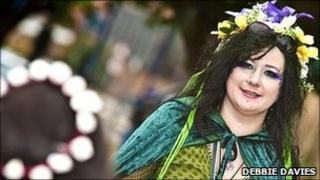 Pagan Pride in Nottingham is now the UK's biggest free pagan event, according to its organiser.
Esme Knight said she expected 1,300 to 1,500 people from across the country to attend the festival being held at the Arboretum on 7 August.
"We've got bus loads of people coming from all over the country to participate. I'm really excited and a little bit nervous," said the practising witch.
The festival is being held to raise awareness, tolerance and understanding of paganism, said organisers.
Coming out
"Pagan Pride is important because it's time that people were able to be themselves and to show that there is a community out there for those who want to join it," said Mrs Knight.
"We are out here, we're not going away, we're a valid part of the spiritual community.
"Pride is just spreading the word that pagans don't have to feel isolated and no-one understands them."
The one-day festival will start with a parade of Wiccans, Druids and Shamans through the city's streets.
They will leave Old Market Square before midday and work their way to the Arboretum.
At the park there will be live music, workshops and speakers from all over the UK.
Mrs Knight said Pagan Pride was a family event open to all and encouraged people to "come and ask questions".
Eighty people attended the first event, an open picnic on the first Sunday of August 2009.
"People just turned up from word of mouth and a few photocopied fliers," Mrs Knight said.
"On that day people said they wanted to show everyone that there were a significant number of people willing to stand up."
The following year it grew into an organised festival and parade with more than 600 people attending.
Now in its third year, it has been recognised as the country's Pride event for pagans by national bodies the Pagan Federation and the Centre For Pagan Studies.
"There are other events, but they are not free," said Mrs Knight.
Organisers plan to launch Pagan Pride events in a number of cities across the country in the future.