Nottingham police patrols see quieter night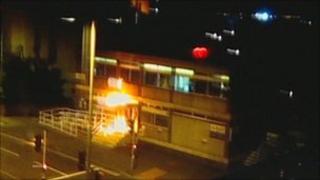 Nottingham's streets have been relatively quiet after two previous nights of serious disturbances.
Police said the deployment of more than 800 officers in and around the city centre on Wednesday kept it peaceful.
A total of 25 people have been charged in connection with the trouble, including a father and son accused of assaulting a police officer.
Nearly 100 people have been arrested and police said they expected more charges during the day.
The force said retired officers and special constables came forward to help patrol the streets and mounted officers were also deployed.
Trouble hotspots
Three remand courts have been working extra hours to process those in custody.
Most people have been charged with violent or public disorder, although at least one has been charged with carrying a bladed weapon.
Police said the average age of those arrested is 20.
On Tuesday night police stations in The Meadows, Bulwell and St Ann's were targeted, while Canning Circus station was set alight after fire bombs were thrown.
Mobs of up to 50 people also damaged cars, pubs and shops in areas including Basford, Mapperley and Radford.
A crowd of about 30 people attacked houses and cars in the St Ann's area on Monday night.