CCTV images released after Nottingham train assault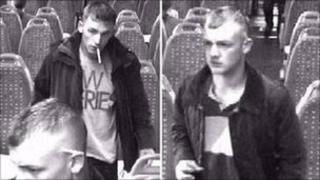 CCTV images of two men have been released after a passenger was attacked on a Nottinghamshire train.
The 23-year-old victim was assaulted on the 19:55 BST Nottingham-to-Worksop service, on 4 August, British Transport Police said.
Two men got on the train at Shirebrook and stole a phone and a small amount of money. The pair left the train service at Worksop via Turner Road.
The victim sustained minor physical injuries.
Detective Constable Ian Grice said: "This was a violent, aggressive and targeted attack on a man travelling alone.
"The pair assaulted the victim, grabbed him by his clothes, and pinned him to one of the tables where he was threatened."
Police have appealed for witnesses to contact them.