Sutton-in-Ashfield 'Mother-of-the-bride' for hire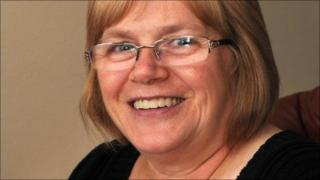 A woman who was fed up of waiting for her daughter to get married has advertised her services as a "mother-of-the-bride" in a local newspaper.
Jacky Tucker, 58, from Sutton-in-Ashfield, Nottinghamshire, said she was desperate to be part of someone's big day but had given up on her own child.
Daughter Samantha, 35, has told her she does not want to get married.
Mrs Tucker said she was looking for a bride whose mother was not there to help.
She is offering her services for free.
"I want to help pick the dress, pick the venue, to be there for the bride from start to finish," she said.
"I want to open the curtains when she tries on the dress and cry with her and stand at the alter and cry with her.
"I think it'd be lovely," she said.
Mrs Tucker, who has been happily married to husband John for 36 years, said she was sure her daughter was not going to change her mind.
"My daughter is definite. She's happy single. I know her," she said.
Mrs Tucker has two sons Nathan, 33, and Ashleigh, 28, but said it would not be the same if they got married as she would not be so involved.
"It's a mother-of-the-bride thing," she said.
"Anyway, they're not the settling down type. They like a good time.
"None of my children have ever had a long term partner," she added.
The idea for the advert in the Mansfield Chad came from her daughter who was sick of her mother's moaning.
Samantha Tucker said: "I suggested it as a joke at first. I know she would be brilliant."
Mrs Tucker said she understood that what she was doing was unusual but promised she was "not weird in any way, shape or form".
"I just want to help to do a wedding, to be involved in one for once in my life," she said.