New charges over Nottingham disturbances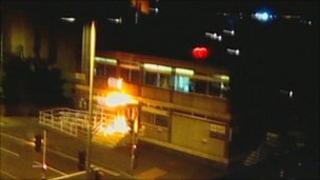 Nearly 80 people have been charged over disturbances in Nottingham.
Police said they had continued to work on evidence gathered during two nights of disorder which saw police stations attacked and property damaged.
Most charges are for violent disorder but they also include receiving stolen goods and possession of an explosive.
The force said hundreds of police officers, PCSOs and specials on the streets had meant another quiet night in the county.
A Facebook page set up to show support for Nottinghamshire Police during the riots has attracted more than 12,000 followers.
Nottinghamshire Police has also reported a surge in applications to be special constables.
'Robust policing'
On Monday night a gang damaged cars in the St Ann's area and then 24 hours later hundreds of incidents were reported across the city.
These included attacks on five police stations and vandalism of shops.
Fifteen people, aged between 15 and 33, have been charged with arson with intent and violent disorder in connection with a petrol bomb attack on Canning Circus Police Station.
Senior officers said extra patrols would be maintained to "stamp out any sign of trouble decisively, using robust policing".
Deputy Chief Constable Chris Eyre added: "It's a strategy which is working. It is the right approach to take and it has the support of all decent people everywhere."