Nottingham council homes demolition plans revealed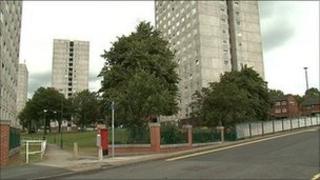 Plans to demolish about 930 council homes have been revealed by Nottingham City Council.
High rise flats in Lenton and Radford and 1960s houses in the Meadows would go under the proposals, with tenants being re-housed and compensated.
The council aims to build 500 new family homes and bungalows by 2017 as part of the scheme.
Public consultations are being held in August with a final decision to be made at a council meeting on 20 September.
The regeneration programme is set to begin in April 2012 and would be the biggest building programme in the city for almost 30 years.
Nottingham City Council said there was a need to redress the balance in council house stock.
The council has families waiting for council accommodation whilst there is a surplus of smaller flats.
Some residents affected by the plans said they would "leave today" if they could, complaining about the poor heating in their high rise blocks but others said they did not want to leave their homes or the community.
Councillor Alex Ball, responsible for housing and regeneration, said: "We need to make decisions for the long term for the whole of Nottingham.
"There will be more appropriate houses for the families and households that we have in the city."
Two hundred of the new homes would be built on land made available by the demolition.
Chris Langstaff, chief executive of Nottingham City Homes who manage the council homes, said: "The flats have come to the end of their useful life.
"The heating is inadequate. The windows are poor. We would have to spend significant sums of money [to improve them]."